One Cowboy's Dream
Sometimes a cowboy's dreams come true, and it's not always in a show pen or a rodeo arena. For Utah horseman Andy Christensen, the big day was at Fort Worth in December 2016 when the 2-year-old Metallic Cat filly he trained commanded a remarkable $375,000 bid. This was Andy's big day – the fruition of a decade's worth of hard work and unyielding ambition.
Not bad for a guy who didn't start training horses until he was 30…
Andy grew up in the town of American Fork, Utah. He played baseball and rode motorcycles, and then went to college on a wrestling scholarship. His family lived in town and didn't have horses, but Andy had the bug – the cowboy bug.
"I just always had this love for horses," Andy explains. "I'd go to clinics and I'd watch videos. I was that kid on the fence looking over with my chin hanging on the rail, wishing I could be a part of what those cowboys were doing."
So Andy chased his dream. His uncle – his mother's brother – was involved with horses and rodeo. It was through him that Andy was introduced to Bob and Tom Mendenhall, brothers who were real estate developers. Heavily involved in the cutting horse business, the Mendenhalls bred and owned Mis Royal Mahogany (Doc's Mahogany x Royal Rosu Glo), the mare Lindy Burch rode to win the National Cutting Horse Futurity in 1980.
"Bob's son Jake and I were best friends, "Andy says. "The Mendenalls would train me on cutting horses when I was in junior high and high school."
That's about the time that Andy purchased his first horse and started competing.
"I roped, rodeoed and I rode saddle broncs – anything to do with cowboyin' and horses."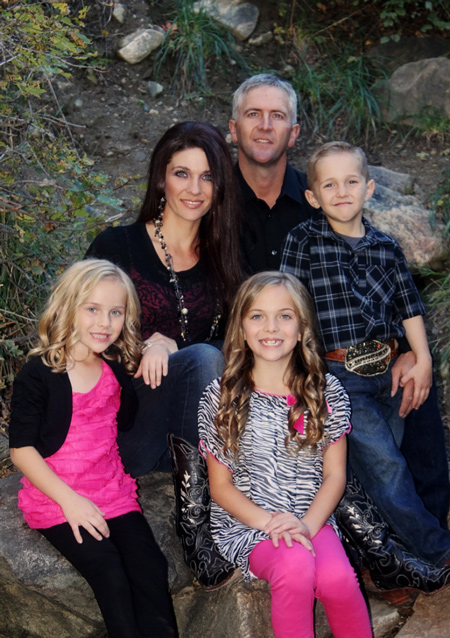 Christensen Family
Career Change
After college, Andy worked at his dad's construction company for several years. And while he appreciated the solid, good-paying job, Andy never did quit looking over the fence.
"I always wanted to train cutting horses or reining horses," he insists. "It didn't matter – I just wanted to be involved."
In 2005 – the year Andy turned 30 – Buffalo Ranch established a full-scale cutting horse operation in Utah. This was the chance Andy couldn't resist.
"By then I was married, and I told my wife, I said, 'I want to try and go work for Buffalo Ranch.' She said, 'Okay,' " Andy recalls. "I was making pretty good money, and changing jobs at that point took a leap of faith for both my wife and me. It was a big risk, but it was something I always wanted to do."
Andy interviewed and was offered the assistant trainer position. For six years he worked side-by-side with cutting horse professional Greg Smith. Andy enjoyed the opportunity stay home and ride dozens of 2-year-olds. Greg, who was often on the road showing, would come home and evaluate Andy's progress. If there were gaps in the training, Greg pointed out the problem, explained the solution and then allowed Andy to make the correction.
"That really taught me a lot," Andy says, adding that Greg and fellow cutting horse professional Scott Amos were his biggest influences. "I also watched videos after videos. They wouldn't even know me, but Roger Wagner, Clint Allen, Johnny Mitchell – all those guys – I love watching their videos and trying to learn how they get their horses to do the things they're doing."
Those Big Brown Eyes
These days, Andy works at Dry Creek Ranch – the operation owned by Bob Mendenhall's sons, Jake and Richard. For the past six years, Andy's primary focus has been buying cutting yearlings, starting them on cattle, and then selling those horses as 2-year-old show prospects. Although most of the horses are sold via private-treaty, over the past couple of years a few have been consigned to the NCHA Futurity sales in Fort Worth.
This is where Metallic Cat comes into play.
For example, at the 2014 NCHA Preferred Breeders Sale, Andy represented Dry Creek Ranch when he paid $63,000 for Reylena Cat (Metallic Cat x Seca Rey Lena x Dual Rey). One year later, that colt went through the NCHA Futurity 2-Year-Old Sale and finished with a $122,000 bid. That, however, did not meet the reserve, and Jake Mendenhall opted to keep Reylena Cat as his show horse.
It was at that same 2015 NCHA Futurity that Andy did it again – he represented Dry Creek Ranch in the purchase of Summer Shandy for $35,000 in the first session of the Preferred Breeders Sale. That filly – named after a German beer – checked off every box on Andy's wish list. She is by Metallic Cat and is the first foal out of Pippis Longstocking by Dual Smart Rey.
"Summer Shandy, for a yearling, had such good withers, and she was balanced everywhere," he recalls. "She was bigger and stronger than a lot of the other yearlings, and I really liked how she was bred. But the thing that really caught me was how big and brown her eyes were. She just looked so intelligent."
The Project
Summer Shandy – along with a dozen or so other yearlings – started down the cutting road at Dry Creek Ranch that winter and into the spring of 2016.
"Right off the bat I thought that filly was special," Andy says. "She was just so cowy and had so much integrity about what she wanted to do. She was so strong that things were just easy for her."
Sometimes, it was a little "too easy," and this presented some challenges.
"I'd want her to be methodical about stopping and coming around slowly through that turn," Andy explains. "But she was just so dadgum cowy that sometimes it was tough to get her slowed down. It was like she was saying, 'Get out of my way – I just want to cow! Just give me that cow!' "
Andy held steady with his training program.
"I'd slow her down, pick her shoulders up – make those shoulders come back to me – and then let her flow out there a little behind the cow through the turn."
Pretty soon, Summer Shandy mastered the procedure – and that was when magic popped.
"I've never felt a horse feel that dynamic and that smart about working a cow," Andy says. "She could spread her legs, get in that ground and then reach back through that turn like no other horse I've ridden."
With that kind of talent, consignment to the big sales at Fort Worth was the natural.
"By then I was thinking she was the best 2-year-old I'd ever ridden," Andy acknowledges. "That mare had so much eye appeal and just an extra look to her. We made a video, and when I watched it I thought, 'Man, there are going to be a lot of people who are going to like this mare.' "
He was right.
Sale Topper
Summer Shandy was a hit coming into the NCHA Futurity sales (Yes, a number of private offers were turned down prior to her arrival in Fort Worth). There was so much interest in the filly that Andy had to jot down a list of people so he could send group texts, letting everyone know the time and place where he'd be working Summer Shandy.
"I'd get to the practice pen and there'd be 10, 12, 15 people waiting for me to come in," Andy recalls, adding that it was a little intimidating to ride in front of some of the world's best cutting horse trainers. "I'm just a redneck from Utah who absolutely loves this industry. I've studied and watched, always wanting to learn how to train a good cuttin' horse. So it was very exciting to have the opportunity to ride this great mare in Fort Worth in front of all these guys."
And Summer Shandy certainly did her part.
"I've had some sale horses where they're good at home, but when you go to the show they
really
put on a performance. This mare was like that. She was good at home and great in the video, but when we got to Fort Worth she grabbed a whole other gear."
At the auction on Dec. 6, 2016, Andy demonstrated Summer Shandy on a cow in front of hundreds of potential buyers. The interest was strong, and Andy was thinking the filly would probably go for at least $100,000.
"And if she got to $150,000, I'd be real happy," he remembers thinking at the time.
Summer Shandy held her own on one cow, and then another. She rated, she ran, she stopped, she turned – executing all the flashy moves of a promising show horse. The bids jumped to $100,000, $150,000, and then just kept going.
"I'm thinking to myself, 'Nice! She brought what I was hoping she'd bring,' " Andy says. "Then she went past $200,000, and I'm thinking, 'Holy mackerel!' "
It wasn't long before $300,000 lit up the tote board, and that's when Andy pulled up the winded mare.
"She'd given all she could give, so I started walking her and patting her on the neck," he says. "She caught her air and the bids just kept going. I just keep my head down because I was afraid that if I looked up, I'd get the biggest grin on my face."
The gavel dropped on a final winning bid of $375,000, selling to Bob Patton's Rockin' P Ranch in Texas. Summer Shandy topped the 2016 NCHA Futurity Sales, and she inked fresh records as those sales' highest-selling 2-year-olf filly and No. 2 all-time highest-selling 2-year-old. (No. 1 is Eight Mile [Metallic Cat x Cappuccino And Pasta x CD Olena] a colt who sold for $400,000 at the 2014 NCHA Futurity sales.)
"It was a once in a lifetime experience," Andy happily says.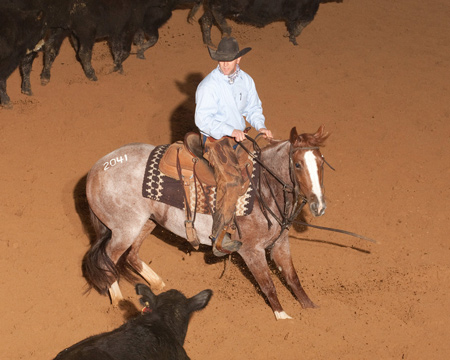 Summer Shandy
The Metallic Cat Factor
Summer Shandy is now in the capable hands of cutting professional Jesse Lennox, and the objective is a debut at this year's NCHA Futurity. As for Andy, he's also aiming for Fort Worth with a number of sale horse prospects, including the best of eight or nine Metallic Cat offspring he has in training right now.
Andy admits to being partial to "Denver," as Metallic Cat is affectionately referred.
"I like the strength and the trainability of those horses," he says. "Some Metallic Cats are quicker footed and some of them have a little bit more sting and try, but all of them – whether they're quicker footed or brighter on a cow – want to stop, load up and turn in a way that wins today."
Yes, Summer Shandy is a pretty red roan. But Andy quickly dismisses the importance of color in his selection process; his requirements are more than coat-deep.
"First, I look at the conformation on those yearlings," he explains, adding that a proven pedigree is next on his list. Then comes the popularity factor.
"The Metallic Cats are hot right now, and they're winning at the shows. If you have a good sale horse by a popular sire like Metallic Cat, people are more likely to stop and really take a hard look at those horses.
At the end of the sale day, it's all about constructing a sale horse prospect that has what it takes to win in today's ultra-competitive arena.
"The trainers are looking for the best show horse they can find," Andy concludes. "They have clients whose goal is to win at Fort Worth, so those guys are looking for the best of the best 3-year-olds.
"We already talked about how those Metallic Cats stop and move in a way that wins today. He's also pretty, puts substance on a horse and is a great producer. He's got it all. I think Metallic Cat is going to be the most dominant stud for years to come."
And, for the record, one of Andy's promising sale prospects is Medallion Cat – a full brother to Summer Shandy… Hope to see you at the sales in Fort Worth in December!